Morning Fog at Crystal Springs
Date

January 7, 2021

Distance

20.12 miles

Location

Crystal Springs Reservoir
Despite scraping my hands a bit yesterday, I wanted to get some good use out of my rental bike (I did pay the money for it!), so I headed out for a short morning ride today. The nice thing about being at my uncle's place rather than my own apartment is that I have access to a car—coincidentally, this was the car that I used to learn how to drive, so I am fairly comfortable in it. As a result, I am not limited to trails that I can access by bicycle. This does bring an exhilarating sense of freedom.
I ended up riding the trail around the Crystal Springs Reservoir, which was recommended by one of my uncle's friend, apparently also a cyclist. It was quite a pretty place, particularly with the morning fog that graces northern California.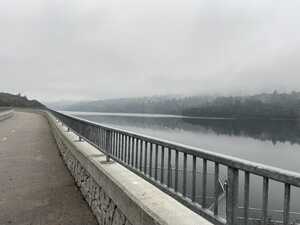 The ride itself was pretty uneventful. I did feel the lingering effects of my trip from yesterday; this saddle is a little harder than I'm used to, so my buttocks were slightly sore to begin with, although this went away with more riding. I also felt the psychological impact of the fall: I'm now a little nervous when turning corners, particularly since the ground was wet this morning.
I considered extending the ride with a trip to Half Moon Bay, but I decided to just cut the ride short. I don't want to tire myself out too early into my bike rental period, since I have more rides planned. I was also planning to play 找朋友 (zhǎo péng yǒu, a Chinese card game) virtually with some friends at 1:00 pm, so I needed to get back early.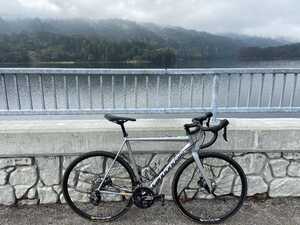 I did learn not to go out for a ride without eating breakfast first! I normally have a pretty big breakfast before going out on a ride, but today I just had an apple and a Clif bar, since I still feel a little awkward about making breakfast at my uncle's place. This was a big mistake, since I started to keenly feel the hunger almost immediately on my ride.