Pittsburgh North Loop
Date

May 13, 2021

Distance

54.18 miles

Location

Pittsburgh, PA

Strava Activity
As of Thursday, it's been two weeks since my second shot, so I am officially fully immunized against COVID-19! Also, my last full final exam was on Tuesday (though I still have a take-home exam and a final project to contend with). To celebrate, I decided to go on a ride. I didn't have any particular route or distance in mind when heading out; I just decided to go wherever I felt like going, which is probably my favorite way to ride.
Rialto Street
I was just heading north out of the city when I suddenly hit a bit of a wall: Rialto Street! Rialto Street is raced annually in the Dirty Dozen, and Strava claims that it's a moderately obscene 18.5% grade. Caught unawares, I dropped into the little ring as fast as I could and slowly made my way up the hill. It was fine, since the climb is not long and my legs were still very fresh, but that was not exactly how I'd envisioned the start of my day.
North Park
After heading north for a little while longer, I ended up in North Park (go figure). It was a really pleasant day, and I actually saw quite a few other cyclists passing by. The park was quite nice, and while it wasn't massive, it was a good deal larger than the parks in the city proper.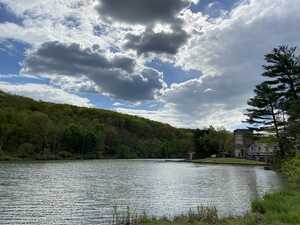 I considered stopping by the Pittsburgh Chinese Church building. It was only a few miles away, but the roads didn't look very bicycle-friendly (at least on the map). I kind of miss the building—I haven't been there in-person since the pandemic began more than a year ago—but I figured there was no rush, since I am now officially fully immunized, and can probably start going again.
Gibsonia and Route 910
When I exited North Park, I hit Route 910. I had a choice between going west and going east; I wanted to go west, since I really haven't explored the area to the northwest of Pittsburgh yet, but it looked like all the best routes back home from that direction would be too long for the amount of daylight that I had left. So I decided to head east instead, via some less-familiar roads.
The landscape was fairly pleasant: a good mix of farms and suburban houses, and I eventually wound up back in Oakmont. Rather than taking Verona/Lincoln Road back, I decided to try a different option and take Route 130 to Highland Park, and then get back to my apartment in Oakland on Center Avenue, in the city.
When it comes to the overall ride, it's nice to see from the ride data that I'm getting faster. I used to do half-centuries at about 13.5 miles an hour; I did this one at a little above 15 miles per hour, and it was hillier than anything I would have done last summer. I'm still not particularly fast, but it's always encouraging to see improvement.