The Pavé of Roubaix
Date

July 2, 2021

Distance

25.35 miles

Location

Roubaix, France
The cobbles of Flanders are hallowed ground in the world of cycling. I'm fortunate enough to spend a month and a half this summer in Lille, a city in French Flanders, and like any cycling fan, my mind immediately turned to the two great races held in the area, Paris–Roubaix, the Hell of the North, and de Ronde van Vlaanderen, Flanders' Finest. How could I pass up a chance to do a lap in the Roubaix velodrome, or to climb the famous Oude Kwaremont?
Acquiring a Vélo
It seems that one month is an awkward time to be abroad when it comes to bikes: for a shorter stay, it's reasonably cheap to rent a bike at your destination, and for a longer stay, it's relatively worthwhile to ship your own bike. But for just a month, neither renting nor shipping really seems to make sense.
I had decided not to bring my own bike, reasoning that surely in Roubaix of all places it would not be too difficult to find a decent bike rental. But most bike rental companies online wanted at least a thousand Euros for a month-long rental…at that rate, I could have shipped my own bike from Pittsburgh! I asked a Decathlon location if they could rent me a bike; they directed me to the BTWIN Village, a big bicycle complex elsewhere in Lille. When I got there, I was told that a neighboring shop might be able to do it, but that shop was closed.
I then considered doing a couple of shorter-term bike rentals, but the problem with short-term bike rentals is that you're at the mercy of the weather. The weather in the north of France seems to be even worse than that in Pittsburgh, which is already a notoriously cloudy and rainy city. I suppose that rain is actually a good thing if you want to ride the pavé (cobbled sectors) of Roubaix, but I also wanted to take some trips out to the surrounding French countryside.
In the end, a coworker loaned me an old bike of his, so I at least had something to ride. On the plus side, it's a proper vintage steel Peugeot. However, it really shows its "vintage"…the saddle doesn't stay in place, and the front brake cable snapped on the first ride! But any bike, and particularly a road bike, is better than no bike, so I'm still quite grateful.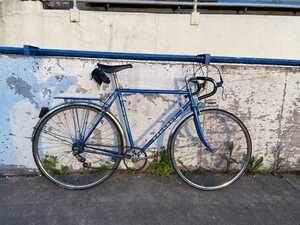 More on the bike later, but first: the ride.
Riding to Roubaix
Friday was one of those rare days of sunshine around here, so I took advantage of it and decided to go for a ride. I initially wasn't sure if I wanted to go to Roubaix or just to ride around the French countryside; in the end, I decided that seeing Roubaix was more important, since I can find countryside in the US as well, but there are no famous bike races in America.
I am impressively bad at navigation in the US, where everything is in English, so you can just imagine how lost I got in France. I didn't mind it, however, since my "adjusted" route took me past some pretty French fields, as well as some more bovine friends!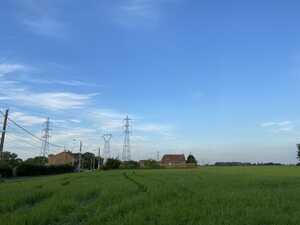 The trail surface here is exactly like that of many of the trails back in Pittsburgh, which is kind of nice. The title of this post is actually a bit of a misnomer; I did not end up doing very much riding on the actual pavé, and I didn't visit the famous Carrefour de l'Arbre. But the roads were quite nice in their own right, with wide, separated bike lanes as well as dedicated trails for pretty much the entire route.
The Velodrome
I knew that I had found the right place when I saw the murals depicting Roger de Vlaeminck and Bernard Hinault on the side of the building (well, that and the mapping app on my smartphone). With some degree of reverence, I headed inside.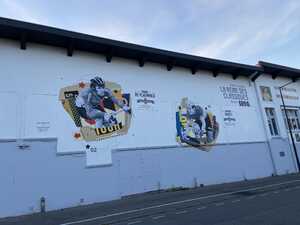 The inside was…pretty much a normal outdoor cycling track, albeit a little fancier than Pittsburgh's Bud Harris Cycling Track. Embarrassingly, I actually wasn't sure which direction I was supposed to ride the track—I wanted to say counterclockwise, like track runners, but the text on the surface was written in the opposite direction. Just to be safe, I rode it in both directions.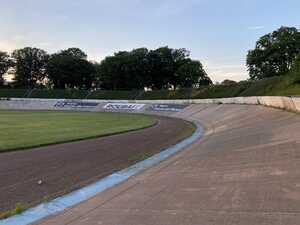 There wasn't much else to do, so after enjoying the setting sun a bit, I set off for home. Perhaps it was a little anticlimactic, but it was also fun to think of all of the famous cyclists, from Merckx to Boonen, who have ridden the same track in front of cheering crowds during one of the oldest and most prestigious bicycle races on the planet.
The Ride Back
As a workout, this was a pretty bad ride—I averaged about 10.3 mph, despite the region being quite flat. I was wearing a t-shirt and a backpack, rather than the fancy form-fitting lycra. I was using flat pedals rather than sophisticated clipless ones. But not every ride has to be about going fast up hills, and at any rate, I don't mind doing slow rides through pretty European cities on fine summer evenings. It brings to mind the reasons I fell in love with cycling in the first place.
A sore spot, though: the bike itself. The saddle was practically unrideable, and I'm not saying that to exaggerate. It wouldn't stay still; despite my efforts to tighten it with a wrench before the ride, it slowly but surely kept on angling itself backward, which resulted in the pointy part of the saddle being directly below a certain sensitive part of the anatomy. This was unpleasant to say the least, particularly so when I went over an unexpected bump in the dark. With the brake cable also breaking on the very first ride, I must say that while vintage bikes have their charm, I've truly come to appreciate the comfort and reliability of modern road bikes like my own.