Thoughts on My Second Half Century
Date

July 4, 2020

Distance

50 miles

Location

North Shore and Great Allegheny Passage
So, I finally managed to get another half century in on July 4, 2020. I was initially a little hesitant because I was afraid that the trails might be a bit crowded on the Fourth of July (which is both detrimental to the riding experience and also a slight risk factor for COVID-19). I eventually decided to go early in the morning to mitigate this. This also conveniently avoids the midday summer heat.
I set out at 7:30 am and headed to the north shore, ending up at the Allegheny Observatory. (As a side note, I finally figured out why I couldn't find the observatory during my previous north shore trip: Google Maps has the location off by about two miles!) I was going fairly slow during this part of the trip, both because there was some nontrivial climbing involved and because I needed to use the bathroom really badly. Fortunately, there was a port-a-potty in Riverview Park that was stocked with toilet paper; after relieving myself, my riding experience became much more enjoyable. I stopped in front of the observatory to take some pictures and snack on a Clif Bar before retracing my journey south again around the Point to Hot Metal Bridge.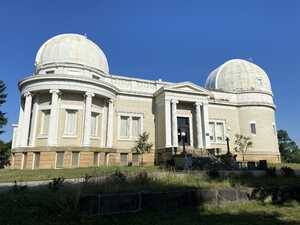 I had originally planned to finish my trip on the GAP by heading out to Dead Man's Hollow / Boston and back, but I ended up not making it that far, since the north shore portion of my trip resulted in a little more mileage than I had expected. Overall, it was quite a fun ride; I averaged 13 miles per hour for a total of 3:50 moving time. My goal was to keep it under 4 hours, so I'm happy with that. I actually feel like I could have gone a bit farther and stretched it to a metric century (100 km / ~61 mi), but I probably would have had to tone down the pace. I had met my goal anyway, so I just decided to stop after 50 miles.
The trails seemed more crowded than I usually see them, but I don't typically ride in the morning, so I can't say if it was any more crowded than a normal Saturday morning. Here are a few reflections on the overall trip:
Hydration and snacking throughout really helps. I went through one 24 ounce bottle of water and one 20 ounce bottle of Nuun hydration mixture, and I ate two Clif Bars throughout the journey. Theoretically I should be drinking more (I actually brought a backup 32 ounce bottle and a tube of Nuun tablets), but the increased water intake definitely helped. My left foot still cramped up a bit at mile 48, but it went away pretty quickly. I generally felt like I had more energy throughout the trip. I also brought along two more Clif Bars but didn't eat them. Two Clif Bars aren't enough to offset a >1,800 kcal deficit alone, but that's what the post-ride lunch is for, right?
I did this ride again without owning "proper" bike shorts. I was growing a little sore at the end, but not to the point where it was impairing my riding. I think that the shorts aren't completely necessary on a 50 mile trip, but I can definitely see their value in, say, a 160 mile weekend round trip to Ohiopyle.
My pacing suffered from the opposite problem as last time: I started out too slow and ended up going much faster toward the end. To be fair, most of my 1,118 feet of elevation gain happened in the first half of the ride, and I was fairly uncomfortable until I managed to use the bathroom. (Speaking of which, I should pack some toilet paper or tissues next time. If the port-a-potty didn't have toilet paper, my backup plan was to use the spare mask that I had brought, which would be slightly non-ideal.)