A Fall on the SF Bay Trail
Date

January 6, 2021

Distance

23.28 miles

Location

Stevens Creek Trail, San Francisco Bay Trail
Due to family reasons, I'm spending winter break this year at my uncle's place in the Bay Area. Since I'll be here for a while, I decided to take advantage of California's unfairly gorgeous weather and get in some cycling, since the weather in Pittsburgh will likely not be conducive to cycling until at least March.
I rented a road bike (a Cannondale CAAD12) from a local sporting goods store (shoutout to Sports Basement in Sunnyvale) and planned a week of fun. This was actually my first time on a real road bike; I've been meaning to buy one for myself, but there's a COVID-induced supply shortage, so I've had to wait a bit.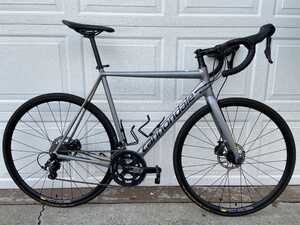 Well, I absolutely loved it, and I'm now even more convinced that I'd like to get my own. Unfortunately, my first ride on a road bike was also a learning experience: I foolishly decided to tackle a short section of loose gravel road. As someone used to riding wider 35mm tires with a more rugged tread, I didn't realize how unstable the slick 25mm road tires would be on an off-road surface. I tried to make a sharp turn on a gravel descent, and you can guess what happened: I fell!
It probably also didn't help that this was my first time riding with clipless pedals (I'd practiced a couple of times before but had never gone on a real ride). For those who are unfamiliar, clipless pedals use a special cleat underneath your shoes to bind your foot to the pedal, sort of like a ski boot. This is more comfortable and purportedly more efficient on longer rides, but it also means that you're stuck to the bike, so if it goes down, so do you!
I didn't get seriously hurt, though I did get a few harmless but nasty-looking scrapes on my hands, elbow, and legs. (It was also a little embarrassing falling on a bike for the first time in years.) The most annoying thing was that my hands got a little bloody, but since this was a rental bike, I didn't want to get any blood on the handlebar tape. Although I was feeling physically okay, I decided to cut my ride short after only ten-ish miles and head home. I had to awkwardly pinch the hoods in order to avoid getting any blood on the handlebars, which made for a somewhat uncomfortable journey back.
I've learned the hard way: road bikes should really be used on paved surfaces only! I also have a lot of sympathy for the pro riders who crash on TV—of course, they are traveling much faster than I am. I'm actually most annoyed about my jacket: my uncle bought me a really nice cycling jacket, since it is a little chilly sometimes (about mid-50s, though it peaks in the 60s in the afternoon). We were actually quite lucky; it was on the clearance rack at REI, and it happened to fit me perfectly. I take it out for its first ride, and I manage to rip a hole in it when I fall! It's not a very big hole, but I'm worried that it'll grow bigger if I don't fix it. I did get a not-insubstantial amount of blood on both my jacket and shorts. Hopefully it washes off?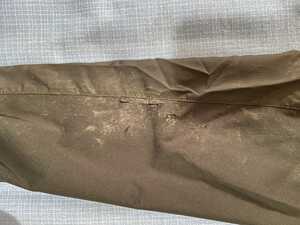 Anyway, back to the positive side. I can finally see why the 15 mph speed limit signs are necessary on trails. On my old bike in Pittsburgh, it takes some effort to break 14 mph. On the CAAD12, I was cruising comfortably above the speed limit! Say what you want about being overpriced, but I must admit that more expensive bikes seem to be legitimately faster. Even after falling and taking it easy on the way back, I still averaged around what I normally do on a workout ride on my old bike. Also, riding over a rickety wooden bridge on a bike without suspension is…an experience.
The riding experience on this bike is phenomenal, and I'm looking forward to having a fun week with it.