Seeing the 2021 Tour de France In-Person
I was fortunate enough to be in France during the summer of 2021. Naturally, as a cycling fan, I had to go see at least one stage of the Tour. I wanted to see a mountain stage—these are supposed to be the most fun to watch, since the peloton is going slower and is typically more strung out. Unfortunately, I was staying (for work) in the north of France, and the mountains are in the south of France, so this didn't really work out.
I did, however, manage to make it to Paris for the last weekend of the race to catch the traditional final stage. I spent Saturday being a regular tourist around the city: eating unpronounceable (but delicious) mystery pastries, wandering around Shakespeare and Company, going to the Louvre, etc. The one thing on my list that I wasn't able to see was the International Prototype Kilogram; it was kind of far, and I wasn't even sure if it was on display.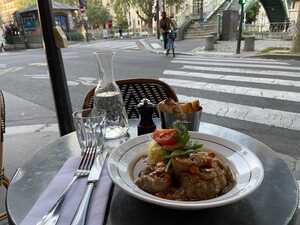 Anyway, after a fun Saturday, it was time to rest and watch bike racing!
An initial mishap
The first major thing that went wrong was my schedule. I realized right before I went to sleep on Saturday night that I had made a fatal mistake: my train back to Lille was far too early, and I would have missed most of the race. You see, I had forgotten that the Paris stage in particular happens rather late; while most stages finish in the afternoon, this one wouldn't finish until around 7-8pm. This was actually a recent change (i.e. from the past few years). It provides for very cinematic shots of the peloton moving through Paris, but it spelled disaster for my plans to see the Tour.
It was too late to refund my original ticket, but luckily it was a budget ticket anyway, so I was only out eleven dollars. I then booked a later train, only to realize that my new train was still too early. Luckily, this ticket was transferable, so I switched to an even later train out of Paris. I had to swallow the cost of a last-minute ticket (since I had to be at work on Monday), but I decided that it was worth it to watch the race.
A second mishap
Sunday morning was pretty productive. I checked out of my hotel, grabbed some pastries from a local bakery, attended service at the American Church in Paris, and got lunch from a Pret A Manger.
That was roughly where my turn of good fortune ended. My plan was to get onto the Champs-Élysées extra-early to claim a really good spot near the finish line. Unfortunately, I found that the entire road, and all roads approaching it, had been blocked off by an elaborate system of barriers and guarded by armed police! I asked them how to get onto the road, but different officers gave me different information: some said that the road was closed, some said that I had to go this way, and still others said that I had to go that way. Finally, I spotted some guys wearing cycling caps who looked like they knew where they were going. Reasoning that they were probably headed to see the race, I followed them.
It turns out that the officers were restricting access to the Champs-Élysées and checking for proof of vaccination against COVID-19. I didn't have a French pass sanitaire, but fortunately my American CDC card was good enough for the officer, and he let me through after inspecting the contents of my backpack.
Another slight issue: I had arrived five hours early in order to get a good spot near the finish, but the sidewalk was blocked off near the finish. One of the officers told me that the finish line was not accessible while another told me that I could try, but I'd have to leave the cordoned-off zone and re-enter elsewhere. Not wanting the hassle, I decided to stay put where I was, which honestly wasn't a very bad spot at all. I was within sight of the finish line, although I was on the wrong side of it.
The next few hours were a little boring. I read a little, followed the race thread on Reddit, and listened to the Belgian (?) fans next to me for entertainment, but frankly standing in the same spot for hours on end is not very exciting. I did splurge a little and buy myself a cycling cap from a vendor at the side of the street. All told, I ended up standing in that spot for six and a half hours.
The Tour caravan arrives
At last, the oncoming race was signaled by the start of the Tour caravan. For those who don't follow the sport, the big races receive lots of funding from sponsoring companies, and these companies get to advertise themselves in a big parade that precedes the riders. It's great fun, and they usually give out lots of free goodies, except for during the final stage in Paris.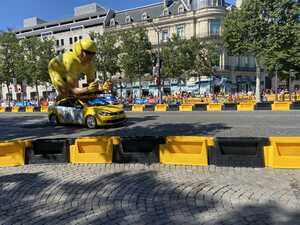 By now, the crowd had thickened a bit, but since I had gotten there so early, I had a front-row spot. The advertising was a little wasted on me, since as an American I can't really buy from many European consumer goods companies, but it was a good show. It's also not just advertisements; before the caravan proper, there's often a contingent of local schoolchildren riding the course, and it's always fun to cheer them on. One poor child fell off his bike, but he was helped up by a kindly police officer.
Allez, allez, allez, allez!
Finally, some time after the caravan had left, we saw the first sign that the race was truly underway: the motorcycle procession that goes in front of the riders. At this point, the crowd of people behind me was about three or four people deep.
Then, quite suddenly: the peloton appeared! The wonderful thing about spectating on the Champs-Élysées is that riders actually make several laps around it, meaning that you get to see them multiple times. This is a much better deal than a regular stage, where you only get to see them pass you once. This also means that you don't have to choose between taking pictures and immersing yourself in the experience: you can do both, on different laps. The first time the riders passed, I didn't take any pictures; I just screamed "allez!" at the top of my lungs and enjoyed watching the peloton fly by.
At one point, a young Chinese couple stood a little bit behind me. I was excited, since there was finally someone speaking a language that I could understand! They were evidently not big cycling fans, since they left after watching just one lap. Perhaps they didn't realize that the riders would be back after five minutes to start the next one.
On a subsequent lap, I was waiting with my smartphone camera ready, and my efforts were rewarded: I got a picture of a small breakaway establishing itself off the front of the peloton. Of course, there was virtually no chance that the sprinters' teams—particularly Deceuninck–Quick-Step—would allow the breakaway to last until the finish line. But for a moment I allowed myself to imagine that the Belgian fans next to me hadn't been crazy when they mentioned Bauke Mollema before the race.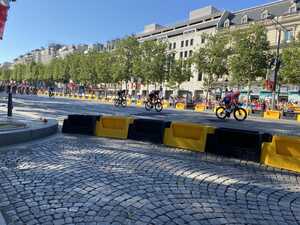 Some of the riders that I was able to pick out of the peloton due to their distinguished livery:
Tadej Pogačar, in the race leader's maillot jaune
Mark Cavendish, in the green points jersey
Julian Alaphilippe, in the rainbow world champion's jersey
Greg Van Avermaet, wearing a golden helmet as the reigning Olympic champion
Wout van Aert, in his Belgian national champion's jersey
Beyond that, I was a little lost when it came to figuring out who was who. I have no clue how the commentators manage it.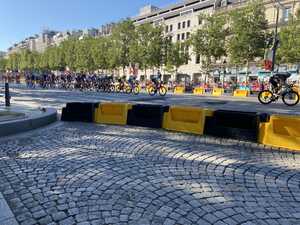 On a few occasions, a rider got dropped from the back of the peloton, sometimes because of a mechanical issue. They would then have to fight their way back to the main bunch all alone. These riders always got the loudest cheers of encouragement from the crowd, which was awesome to hear.
Anyway, after several more laps of fun, it came down to what everyone had been waiting for: the sprint finish. Being on the opposite side of the finish line, I didn't actually see the sprint, but I heard the commentator quite clearly. The issue was that the live commentary being broadcast over the loudspeakers was entirely in French, which I do not speak; at the very least, I was able to make out the names of the riders. I heard "Cavendish" then "van Aert" a few times, followed by a triumphant "Wout van Aert!" Immediately afterward, the man himself sailed into view with his arms raised, and there was joy for cycling fans globally.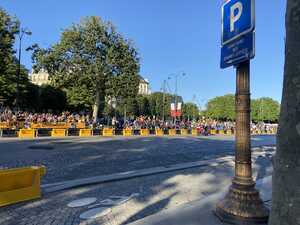 The general advice that I've heard is that the south side of the street is the optimal place to be, since the sun is out of your eyes. However, it turns out that you want to be on the north side if you're spectating near the finish line, because that's the side that the finish is on. I probably should have figured this out when I noticed that the crowd was a little thicker on the other side of the street. Oh well.
Afterward, several of the teams and riders stopped to take pictures in front of us. Particularly popular was Rigoberto Urán, to whom several people were affectionately calling "Rigo!"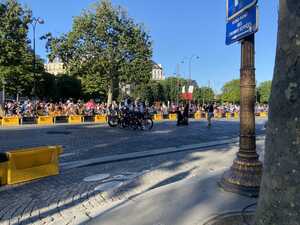 Overall, it was a great day, and all the standing around was definitely worth it to get to see the riders in-person. It was also really fun being surrounded by other cycling fans of all nationalities. I heard people speaking Dutch, German, English, French, and Chinese, and I saw flags from as far afield as Denmark, Brazil, and South Africa. Being from the United States, I don't get many opportunities to spectate at World Tour races, so this was truly special.