New Bike Day!
Date

February 14, 2021

Distance

11.33 miles

Location

Downtown Pittsburgh
I recently got a road bike! It's a Felt VR (their line of endurance bikes) with a carbon frame and a 105 groupset. I was pretty lucky to be able to get my hands on a new bike, given the current industry shortage.
Being very much single, I decided that the best way to spend Valentine's Day would be to take my beautiful new bike out for its maiden voyage. Naturally, I did not notice the following Tweet sent out by the Pittsburgh Department of Public Safety earlier in the day:
URGENT ALERT!

Public Safety is urging all motorists to avoid driving in the city unless it is an emergency. The roads are extremely icy and dangerous. Police, Fire, and EMS are responding to multiple collisions & various roads are being closed to traffic.

Please stay safe.

Pittsburgh Department of Public Safety, Twitter
Fortunately, the road conditions were passable on the bigger streets in the city by the time I got out, so it wasn't too bad.
The Ride
I usually connect onto the Three Rivers Heritage Trail system through Panther Hollow, but I had recently gone on a run there and found that the trail was still covered in snow. So I decided this time to take an alternative route, cutting through Polish Hill and getting onto the trail in the Strip District.
Unfortunately, my plan was foiled: when I arrived at the Strip District, it turned out that the entire trail was still covered in snow and completely un-rideable, at least as far as I could see. So I instead rode around the Strip District a bit before somehow finding my way onto the Fort Pitt Bridge—not the bike path (really a sidewalk) adjacent to the road, but on the actual road itself. I quickly realized that this was not where I wanted to be and bailed, hopping over the guard rail onto the sidewalk and walking back down the bridge. Unfortunately, my plan backfired a bit; I quickly found out that the sidewalk was covered in snow and slush. When I was almost off the bridge, I saw the following sign: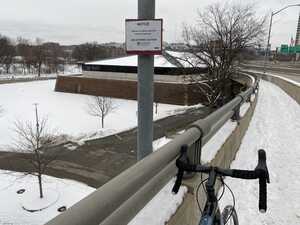 Because I was riding downtown on various roads with lots of stop signs and traffic lights, my average speed was somewhat embarrassingly low, and I put in some very modest mileage. (And walking my bike through the snow didn't help, either.) But hey, I count myself lucky for being able to even get in a ride despite the temperature being in the 20s (Fahrenheit, of course—that's about -5 to 0 Celsius for our metric friends).
Having been through the ordeal of not dressing sufficiently for winter cycling at Tahoe, I put on some extra layers for this trip. I found that a thin long-sleeve base layer, plus a short-sleeve jersey, plus a warm quarter-zip, all topped off with a thin jacket was enough insulation, at least during the day. It did start getting a bit chilly later on, though.
Thoughts on the Bike
The new bike rides absolutely wonderfully, and (at least in comparison to other bikes I've ridden) it weighs about as much as a feather. Here are some pictures in the snow: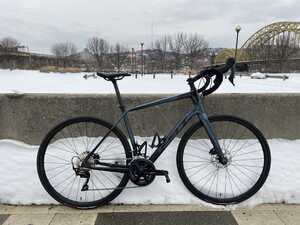 I will admit that I probably would have preferred a bike with rim breaks, since they're a little easier for me to service at home. But the hydraulic disk breaks work pretty well, and again, I'm just happy to have any new bike right now given the pandemic-induced supply shortage.
I was also slightly apprehensive about the chain ring before I got it. On my local bike shop's website, the bike was listed as having an FSA sub-compact crank set, which I thought wasn't really necessary when combined with a wide-range cassette. However, when I saw the bike in the shop, it had the usual compact (50-34t) chain ring. Given that I'm not doing any criterium racing, this is probably fine.
Speaking of cassettes, wow, brand new ones are so shiny! I did not know that it was possible for a bicycle cassette to be this clean. Seriously: